Co-productie met partners:
MFT, Maakplaatsen, generators & broedplaatsen
Co-productie met partners: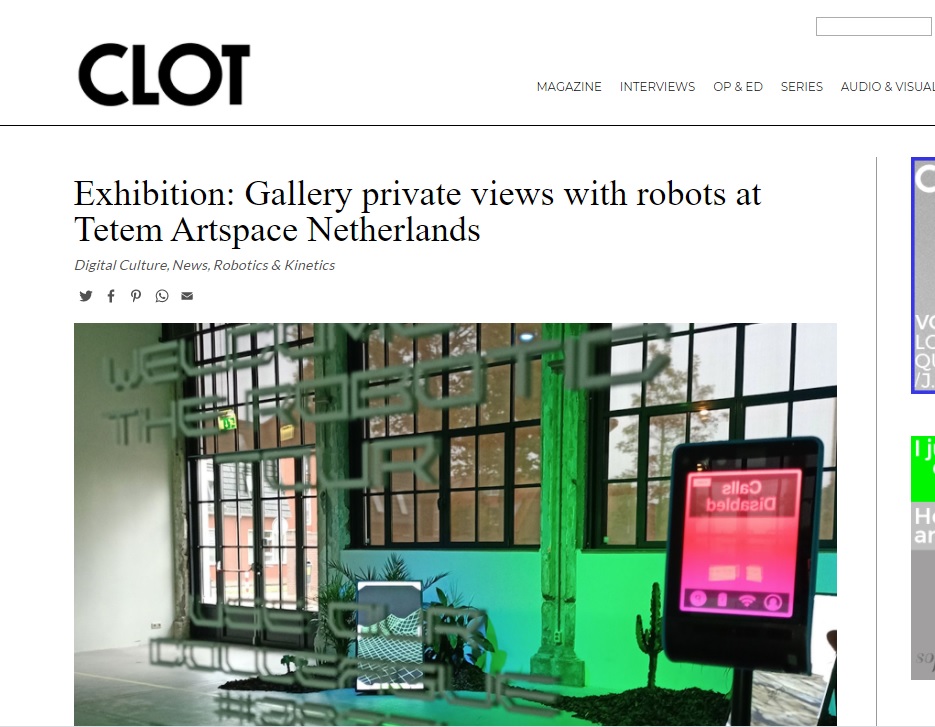 Something that in the internet subcultures circles almost started as a joke or meme – attaching a camera or an iPad to someone's else body to use it as a mobile vessel for whatever communication or visual purpose-, seems to have been pushed a step further in a new project by Tetem, an artspace in the Netherlands. The gallery has developed a system where their exhibitions are not only accessible physically (every day more and more difficult) and online but also with a robot. Named Double, this remote-controlled robot allows the virtual visitor to explore and experience Tetem's exhibition space.
The visitor controls the robot from home and decides where the robot goes and what they want to discover. Real-time images and sound are sent via the webcam. Controlling the robot, Tetem says, is easy with a computer or the app. On the other side of the screen, a Tetem employee welcomes and assists the visitors during their visit. The "robot visitor" can also take pictures inside the exhibition space.
Read the whole article here.
Laatste in de media
Publiceerdatum maandag 4 september 2023
Stimuleringsfonds: Interview met Wilja Jurg en Paula Hulleman over het programma 'Maakroute Twente'
Met de Open Oproep Platforms voor ontwerpend leren ondersteunt het Stimuleringsfonds Creatieve Industrie in 2023 veertien platforms die zich richten op talentontwikkeling van jongeren. Eén van de geselecteerde aanvragers is Tetem in Enschede, dat met Maakroute Twente de jeugd in de regio uitdaagt om te onderzoeken wat maak- en digitale cultuur en digital storytelling voor hen kunnen betekenen. Centrale vraag in het traject: waar […]