Co-productie met partners:
MFT, Maakplaatsen, generators & broedplaatsen
Co-productie met partners: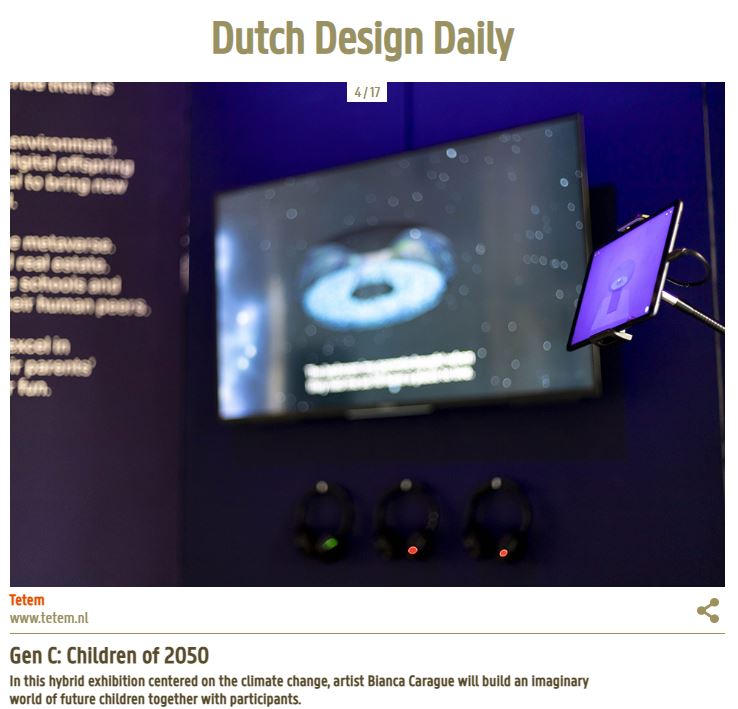 What does the life of a digitally grown child look like? How do the future children make use of indigenous knowledge and nature? Which realities exist in their metaverse? How do children raised by the whole community affect society? Tetem's new exhibition, Gen C: Children of 2050 created by artist and designer Bianca Carague, takes the issue of climate change as a starting point and imagines four unique scenarios that could happen as a response. It is a growing installation and is activated through four different bedrooms of four different kids: Non-Fungible Child, Folkfarma Kid, Renaissance Kid & Impact Generation. Discover it in the exhibition and help build the physical and digital worlds of these future children. All ideas and inputs will be used by the artist during the exhibition period to further shape the four bedrooms. From mid-March, part of the exhibition is also growing online and in VR, so that people from all over the world can participate.
Klik hier voor het volledige artikel.
Laatste in de media
Publiceerdatum maandag 4 september 2023
Stimuleringsfonds: Interview met Wilja Jurg en Paula Hulleman over het programma 'Maakroute Twente'
Met de Open Oproep Platforms voor ontwerpend leren ondersteunt het Stimuleringsfonds Creatieve Industrie in 2023 veertien platforms die zich richten op talentontwikkeling van jongeren. Eén van de geselecteerde aanvragers is Tetem in Enschede, dat met Maakroute Twente de jeugd in de regio uitdaagt om te onderzoeken wat maak- en digitale cultuur en digital storytelling voor hen kunnen betekenen. Centrale vraag in het traject: waar […]