Co-productie met partners:
Maakplaatsen, generators, MFT & kids
Co-productie met partners: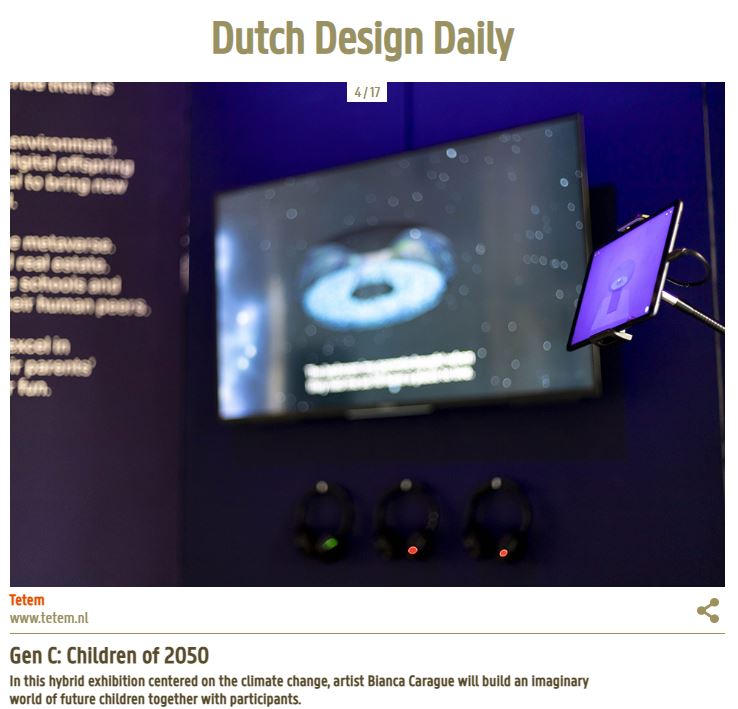 What does the life of a digitally grown child look like? How do the future children make use of indigenous knowledge and nature? Which realities exist in their metaverse? How do children raised by the whole community affect society? Tetem's new exhibition, Gen C: Children of 2050 created by artist and designer Bianca Carague, takes the issue of climate change as a starting point and imagines four unique scenarios that could happen as a response. It is a growing installation and is activated through four different bedrooms of four different kids: Non-Fungible Child, Folkfarma Kid, Renaissance Kid & Impact Generation. Discover it in the exhibition and help build the physical and digital worlds of these future children. All ideas and inputs will be used by the artist during the exhibition period to further shape the four bedrooms. From mid-March, part of the exhibition is also growing online and in VR, so that people from all over the world can participate.
Klik hier voor het volledige artikel.
Laatste in de media
Publiceerdatum woensdag 24 augustus 2022
Vogue Phillipines: Bianca Carague Designs Virtual Realms For Your Mental Well-being
Entering into the virtual realm Bump Galaxy, one might encounter a sparkle of fireflies that asks how you're doing. Glowing avifaunas soar above head, dancing between pixel-made parrots. Heartfelt conversations with strangers are even highly-encouraged. "Welcome to a place in the metaverse, where people play to care," reads the welcome message as one enters the digital space. This is social […]
Publiceerdatum dinsdag 16 augustus 2022
Huis aan Huis: Verhalen over planten
Er zijn naar schatting ruim 370.000 verschillende soorten planten in de wereld. Plus alle soorten die nog niet ontdekt zijn én de varianten die wij als mens maken.  En iedere plant is weer bijzonder op zijn eigen manier, met een eigen verhaal en persoonlijkheid.  Lees hier het volledige artikel.