Co-productie met partners:
Maakplaatsen, generators, MFT & kids
Co-productie met partners: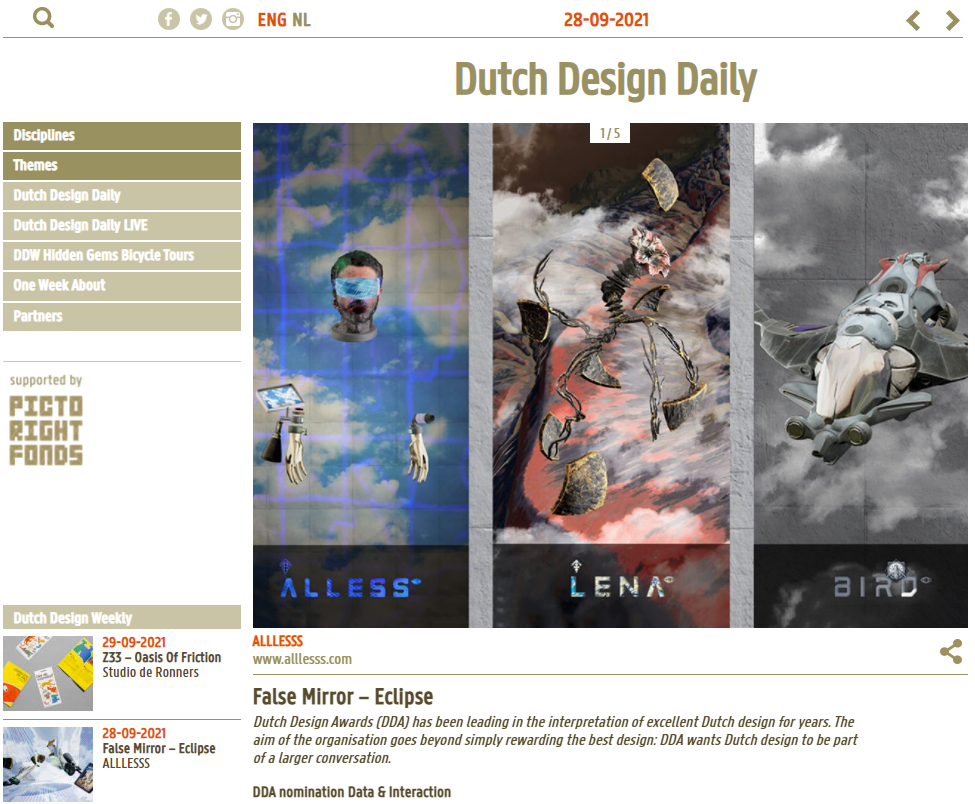 DDA nomination Data & Interaction: If future humans will ever live in entirely virtual worlds, what would their lives be like? False Mirror is an open and interactive virtual reality project that explores speculative futurism and inhabiting virtual spaces. In Eclipse, ALLLESSS examines cohabitation scenarios between (post-)humans that cannot be imagined in real life; how would we live if we were not hindered by language barriers, geography and social hierarchy? False Mirror – Eclipse consists of a live VR performance and a hybrid exhibition in which visitors communicate with each other by taking on diverse roles and observing the shared virtual world through various different lenses.
Read the feature article here
Laatste in de media
Publiceerdatum woensdag 24 augustus 2022
Vogue Phillipines: Bianca Carague Designs Virtual Realms For Your Mental Well-being
Entering into the virtual realm Bump Galaxy, one might encounter a sparkle of fireflies that asks how you're doing. Glowing avifaunas soar above head, dancing between pixel-made parrots. Heartfelt conversations with strangers are even highly-encouraged. "Welcome to a place in the metaverse, where people play to care," reads the welcome message as one enters the digital space. This is social […]
Publiceerdatum dinsdag 16 augustus 2022
Huis aan Huis: Verhalen over planten
Er zijn naar schatting ruim 370.000 verschillende soorten planten in de wereld. Plus alle soorten die nog niet ontdekt zijn én de varianten die wij als mens maken.  En iedere plant is weer bijzonder op zijn eigen manier, met een eigen verhaal en persoonlijkheid.  Lees hier het volledige artikel.