Co-productie met partners:
MFT, Maakplaatsen, generators & broedplaatsen
Co-productie met partners: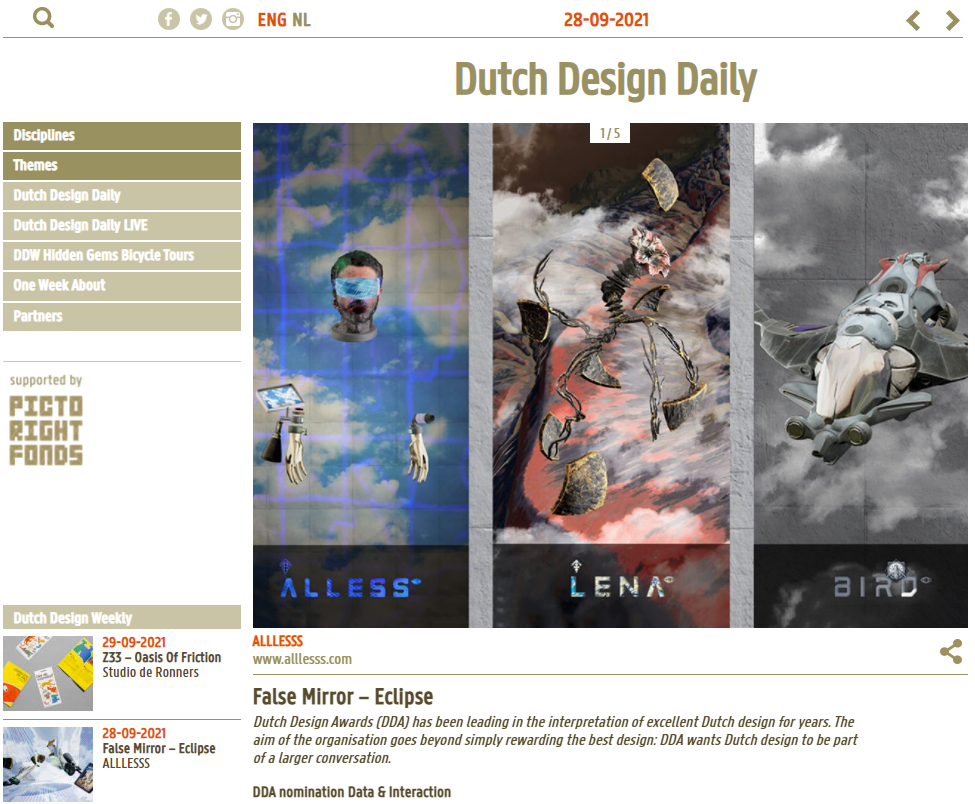 DDA nomination Data & Interaction: If future humans will ever live in entirely virtual worlds, what would their lives be like? False Mirror is an open and interactive virtual reality project that explores speculative futurism and inhabiting virtual spaces. In Eclipse, ALLLESSS examines cohabitation scenarios between (post-)humans that cannot be imagined in real life; how would we live if we were not hindered by language barriers, geography and social hierarchy? False Mirror – Eclipse consists of a live VR performance and a hybrid exhibition in which visitors communicate with each other by taking on diverse roles and observing the shared virtual world through various different lenses.
Read the feature article here
Laatste in de media
Publiceerdatum maandag 4 september 2023
Stimuleringsfonds: Interview met Wilja Jurg en Paula Hulleman over het programma 'Maakroute Twente'
Met de Open Oproep Platforms voor ontwerpend leren ondersteunt het Stimuleringsfonds Creatieve Industrie in 2023 veertien platforms die zich richten op talentontwikkeling van jongeren. Eén van de geselecteerde aanvragers is Tetem in Enschede, dat met Maakroute Twente de jeugd in de regio uitdaagt om te onderzoeken wat maak- en digitale cultuur en digital storytelling voor hen kunnen betekenen. Centrale vraag in het traject: waar […]