Co-productie met partners:
MFT, Maakplaatsen, generators & broedplaatsen
Co-productie met partners: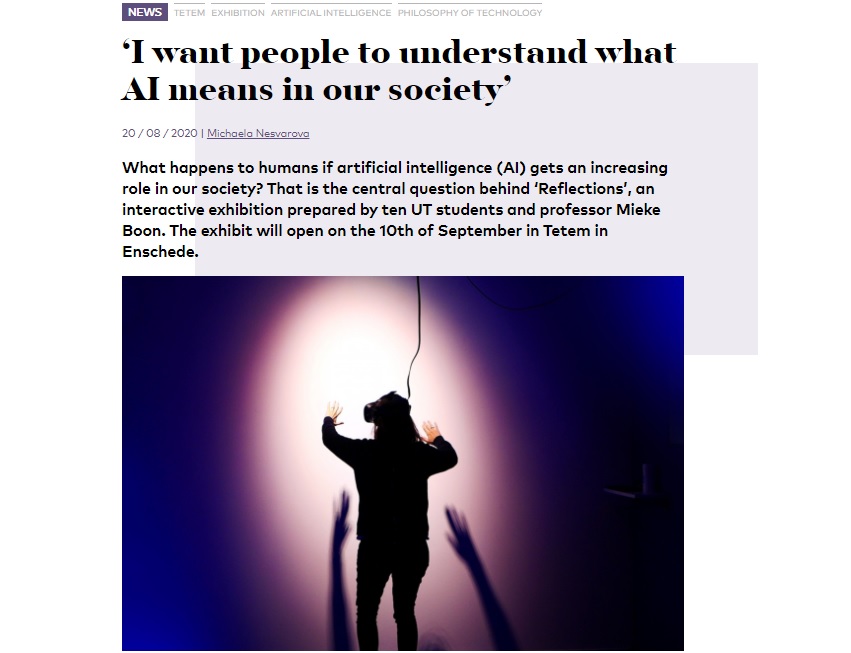 What is the main idea behind the exhibition?
Boon: 'To create societal awareness of AI. It is called 'Reflections' for a reason. We invite people to reflect on AI in society. In the past years, I became interested in artificial intelligence in my philosophical research. AI is becoming better and better and it could soon take over many cognitive functions. It might know us better than we know ourselves. It can make decisions on which music we should listen to, which job to take, which partner to marry and so on. How will that make us feel? What will it do to human dignity? I wanted to explore these questions. In October 2019 I started working on these topics together with my students and Tetem with the goal of creating this philosophical exhibition.'
Read the whole article here.
Laatste in de media
Publiceerdatum vrijdag 6 oktober 2023
1twente: Uniek fotofestival in Enschede verkent 'Human Landscapes'
Fotogalerie Objektief wil met de tweejaarlijkse fotomanifestatie een podium bieden aan fotografie in Twente. Jan Geelen, de voorzitter van Objektief, wil hoogwaardig fotowerk in zijn galerie presenteren. "Elke dag worden er wereldwijd miljarden foto's gemaakt, maar wat een goede fotograaf onderscheidt, is de esthetische kwaliteit ervan." De manifestatie die op zondag 8 oktober begint, is overal in de stad te […]